Spaghetti squash is a winter squash that is the perfect paleo/primal substitution for those that miss long-strand spaghetti – and the delicious variations of sauces such as White Clam Sauce, Sauteed Scallops with Basil Pesto and the always traditional Spaghetti with Meatballs – paleo style, of course!
I have prepared it using so many differnet methods but roasting wins hands-down so no need to waste time trying the others! The roasting adds a nice depth of flavor and keeps the strands moist without being soggy and watering down your sauce. It's easy, delicious and the texture holds up…even when reheating the next day.
Not only is roasted spaghetti squash ideal for weight loss (only 42 cal per cup), it has a very low glycemic load, is anti-inflammatory and has a high "fullness" factor which means it satisfies the tummy as well as the soul. This mild looking squash is a good source of Niacin, Vit B6, Potassium and Manganese in additional to being an excellent source of dietary fiber and Vit C.
1 Spaghetti Squash (serves 4 appetizer portions or 2 main course portions)
1. Preheat oven to 400°F
2. Place whole squash on the center of a half-sheet pan
3. Bake for 15 mins
4. Remove whole squash from oven and place on cutting board using oven mitts (will be hot to touch)
5. Using a large chef knife, cut the squash in half lengthwise. *This is the most difficult part – I've found piercing the center and push the knife down, then turn and do the other side makes it easier.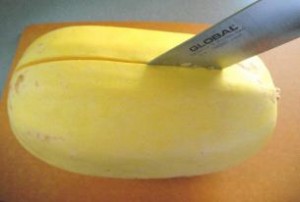 5. Once open, you'll see the seeds and stringy bits that need to be removed. A melon-baller works perfectly but of course, a spoon is fine. It's best to remove the seeds now because the flesh of the squash is still hard.


6. Place both halves of the squash back onto the half-sheet pan – cut side facing up.
7. Roast for 45 mins
8. The squash will be slightly caramelized around the edges and there might be a small amount of liquid in the centers.
9. Remove squash from oven and place pan on a heat-resistant surface to cool.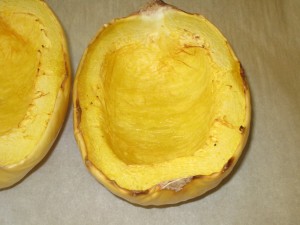 10. When cool enough to handle, scape the flesh of the squash using a dinner fork, moving gently around the shell and fluffing up the strands of squash.
11. Remove strands from the shell to a serving plate.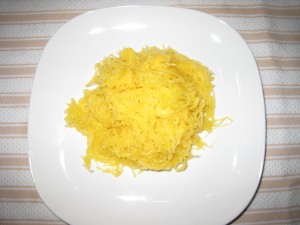 12. Add your sauce and toppings of choice!
Seriously, its really easy and can be made ahead of time and stored in the refrigerator for a day or two. Perfect for quick dinner prep or work lunch – reheats  beautifully in microwave.
**Just please be extra careful and mindful during the cutting phase.